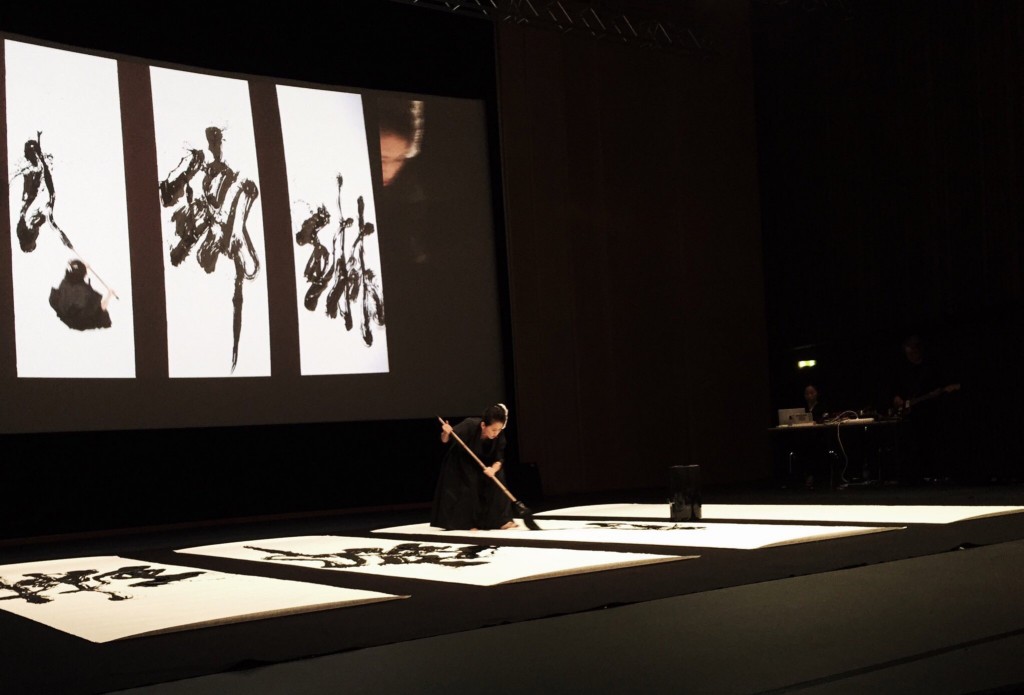 Interactive Calligraphy & Sound Performance
Aoi Yamaguchi (Japanese Calligraphy)
Schneider TM (Experimental Music)
Mika Satomi (Sensor embedded costume and Interactive system)
Aoi Yamaguchi performs a conceptual and interactive large-scale live calligraphy in collaboration with Berlin-based musician Schneider TM and e-textile artist Mika Satomi, inspired by the TYPO Berlin 2017's theme "Wanderlust".
Calligraphy is a unique art form; it deconstructs and transforms existing linguistic conventions through the calligrapher's brush. The calligrapher infuses the character with her interpretation of the idea which makes each performance unique.
The performance invites you to experience the art of Japanese calligraphy and to explore the connection between the body and the mind as Yamaguchi creates the physical representation of an idea with her brush, stroke by stroke.
During the performance, the calligrapher's movement is captured by sensors and translated into a signal that controls part of the instruments. Each motion of her brush is enhanced by sensors that augment Schneider TM's composition adding a unique and powerful modulation and pulsation that entices the audience become part of the piece.
____
** 琳瑯 (Linlow) is an old Japanese word, meaning:
1. Beautiful gem stones, beautiful poems, poetry
2. The beautiful sound made by beautiful gem stones touching each other".
---
video documentation from TYPO conference >>
---
In this project, I have participated as a costume and interactive system designer. I have created the costume embedding eTextile bend and stretch sensors sensing her breathing and elbows and knee bending angles. These sensors are handmade with a combination of conductive stretch fabric and Eeonyx stretch fabric fused with heat bond. As everything is made with textile materials, it is soft and flexible and can cut into shapes needed.
Here is the close up of the Elbow bend sensors.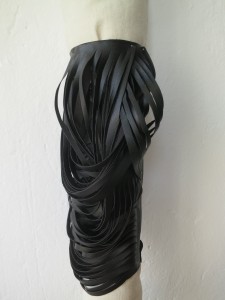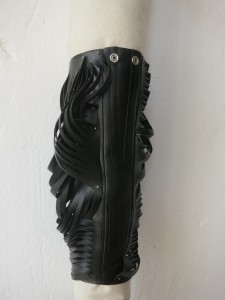 The reading of the sensors are made via X-OSC wireless device. This device is wonderful as it has robust wifi connection and it sends out OSC as plug and play. The fabric sensors are connected to electrical traces placed on the inner garment, then further connected to the X-OSC placed on her belt.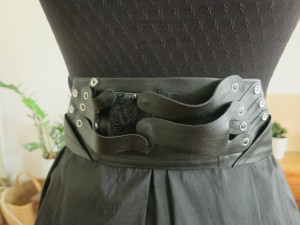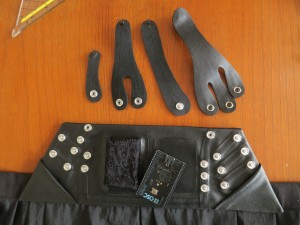 Here are inner garment close up and over view.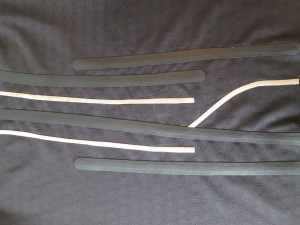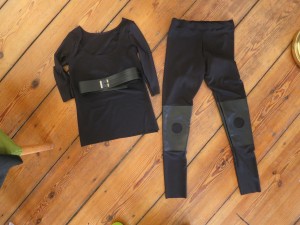 Here is the close up of the connector from a popper to a header pin. this is bridging the fabric circuit to X-OSC sockets.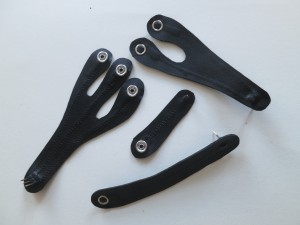 The breathing sensor is also made with the Eeonyx stretch fabric. It is cut in U shape and conductive fabric is placed on the both end covering entire with of the material. The U shape provided much better sensor reading result than square fabric.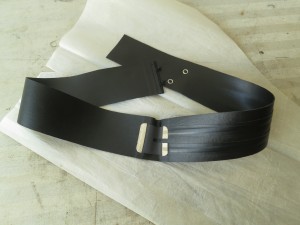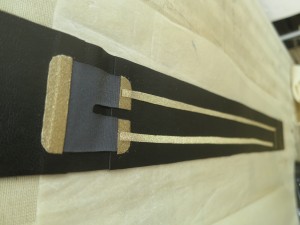 The costume design looked like this. It was inspired by the shape of Japanese Kimono and Hakama, which are often worn by the Aikidoh or Kendoh practitioners.