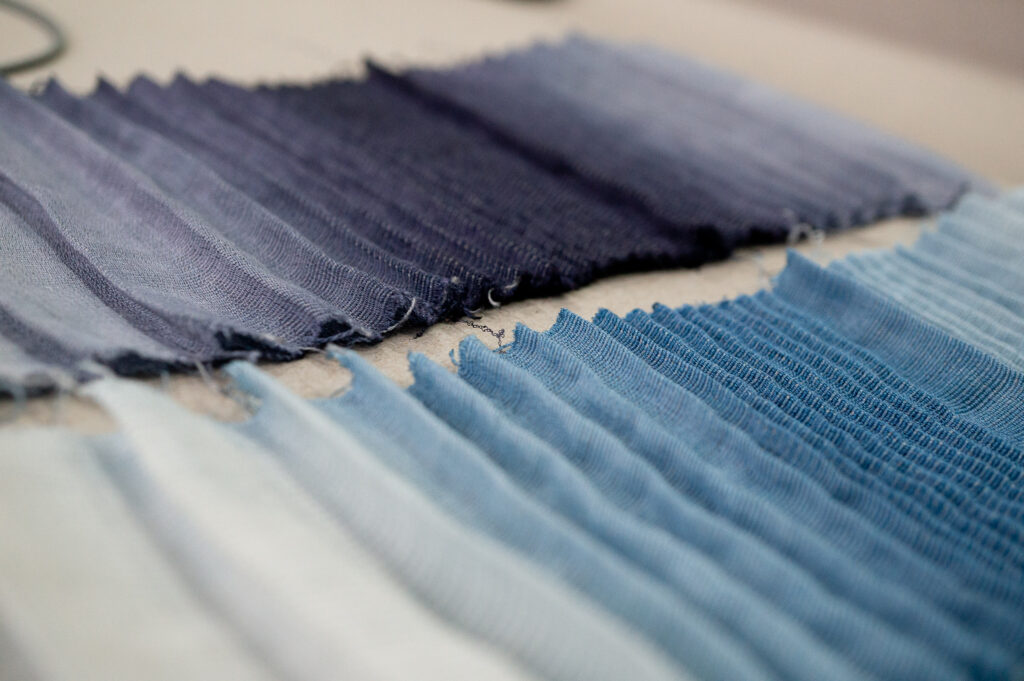 2020
Emma Wood (https://wovenbywood.com/)
Mika Satomi
Yukihiro Tokumoto (Kyoto Prefecture Institute for Northern Industry)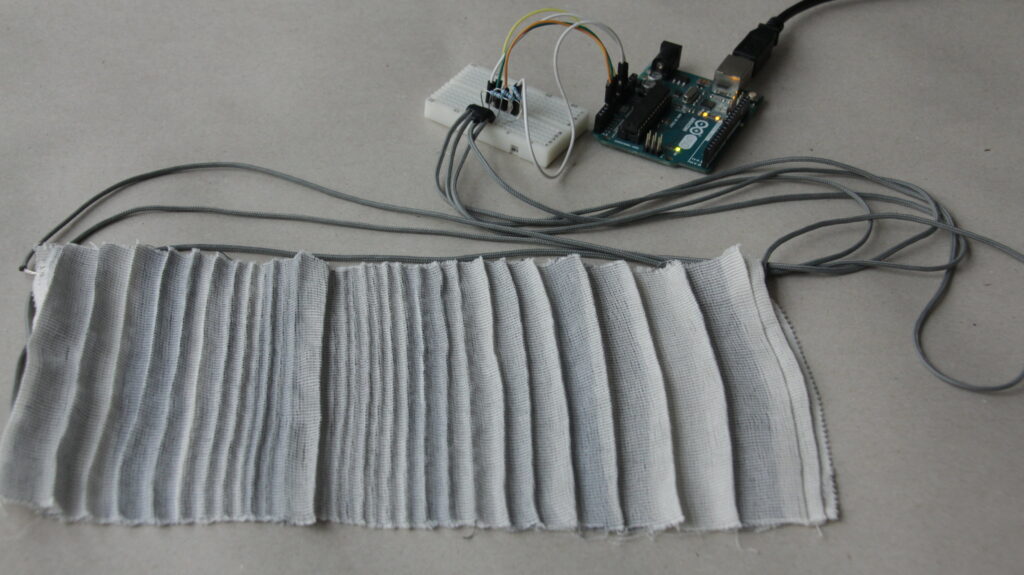 Chirimen is an unique Japanese traditional textile. Many Kimono are made with Chirimen fabric. The fabric is woven with S and Z direction high-twist silk yarn on the weft. The yarn is fixed with Sericin (protein created by silkworm) as you weave. After the fabric is woven, it is cooked in high temperature sodium bicarbonate bath to remove the Sericin coating. When Sericin is removed, the high-twist pulls the yarn in its twist direction, creating 3D structure on fabric surfaces.
I first encountered this textile when I visited KyoTango (Northern part of Kyoto Prefecture, Japan) for KIT Textile summer school. Although, I grew up in Japan and have seen many Chirimen kimono fabrics, I did not know how they are made. I was fascinated with the mechanism of high twist yarn weaving and brought back some samples and sample thread back to Berlin.
My Studio colleague Emma Wood was fascinated with my souvenir. She is a properly trained weaver and textile designer. She started to experiment with the Chirimen yarn I brought back with other types of yarns. We especially found interesting that you can make pleats and other geometric 3D structures in combination with weaving structure and playing with twist directions.
we also started to mix resistive conductive yarn (Bekinox, BK50/1) in weft and sometimes warp to see if we can create fabric that works as a sensing surface. Here are some test samples.
After the samples were washed and dried, I tested with Arduino and quick plotter set-up and it works very well. The change happens as you manipulate the fabric, by stroking, folding, squishing and stretching.
We had a chance to be a part of KIT (Kyoto Institute of Technology) Design Lab exhibition about in Tokyo, and this occasion allowed us to collaborate with Tokumoto-san from Kyoto Prefecture Institute for Northern Industry and produce the fabric we designed with their industrial jacquard machine. The Chirimen is a textile from KyoTango, which is the north part of Kyoto. The Jacquard machine they have is from the early-mid 20th century, when the textile production industry was on its peak at the region. These old industrial jacquard settings are slightly different from the modern jacquard machines and Emma had to do some research to adapt the weave structure instructions to fit the production machines. It was fascinating to observe the communication between Emma and Tokumoto-san. Weavers from the east and west meeting to work together… they all speak the language of looms.
After some try-outs and adjustments, Tokumoto-san has woven 4 meters of our design textiles. It was super nice to receive a long, smooth silk fabric back in Berlin.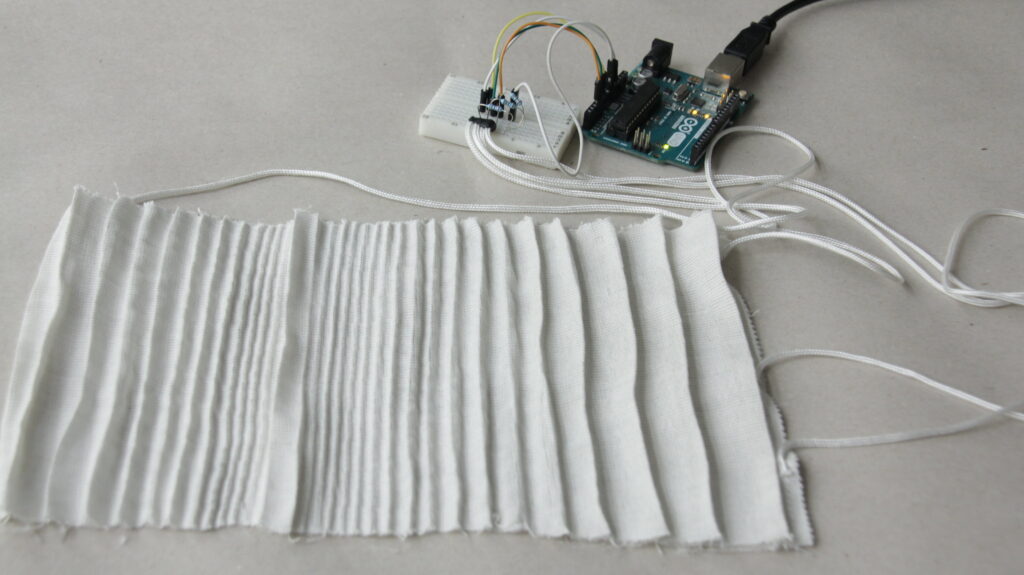 I prepared a small piece with 3 reading points to be read with Arduino microcontroller and interpreted the sensor information with Machine Learning algorithm. The result is connected to a parameter on granular synthesis so different type of interaction with the fabric creates different type of sound.
The next step is to read multiple points form the longer fabric and let the fabric interact with whole body movements. We had an idea to assemble the whole length of fabric as costume for interactive performances, but this will need some more tests.
We named this textile "Dopple" as we were inspired with the image of Doppler effect and the ripple on water surface.
The proejct was created for the exhibition: "Alternative Futures: Contemporary Design Responses to the 300 year old Tango Chirimen Tradition" October 2020, commissioned by KYOTO Design Lab, Kyoto Institute of Technology.