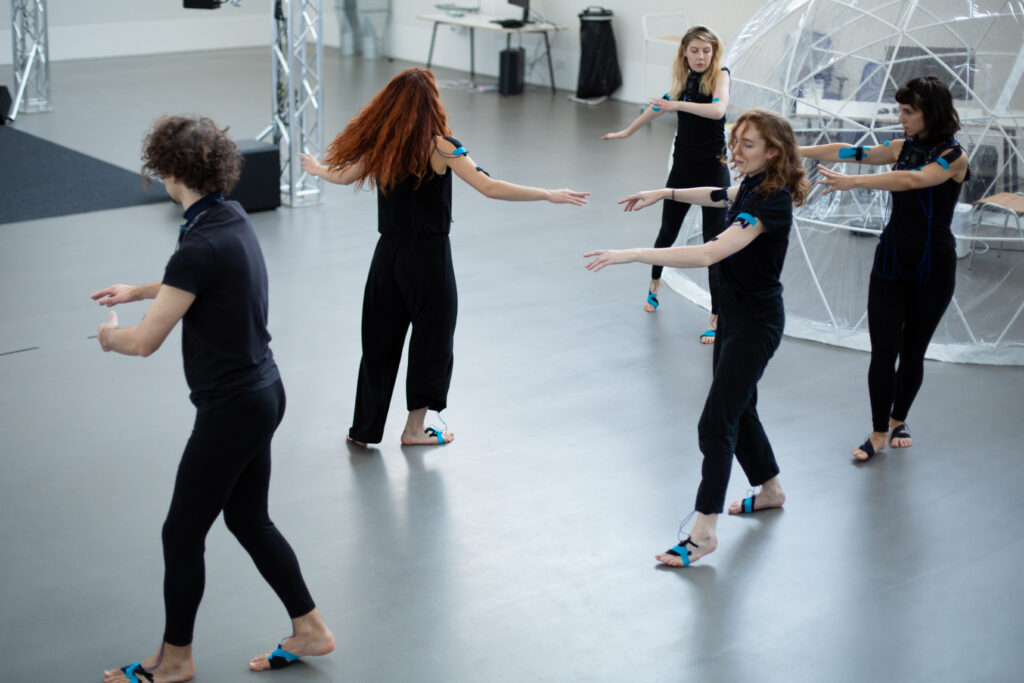 2020 – ongoing
REPLICA INSTITUTE
Mika Satomi, costume and interactive system
As a costume and interactive system designer, I participated in the Speculative Performance project "Dancing at the Edge of the World" by REPLICA INSTITUTE. The piece explore the alternative society of future, where people symbiotically live with AI technology underwater. They sing with their body using AI system as vocal code. They talk about their own ancestors as an oral history of human kind.
I participated in this performance project as a costume and interaction system designer. 8 Kinesiology tape bend sensors are placed on each performers capturing their movement. The sensors are connected to Bela Mini board reading the data in real-time, applying Machine Learning algorithm. The system is trained to specific poses with synthesizer parameters so the performer can "sing" and "talk" with their body movements. Portable speakers are worm by each performer synthesizing their own sound real-time.
The system is built with Pure Data with ml.lib externals to perform Machine Learning on Bela board. Sound synthesis patches were built by the KlingKlangKlong who made the sound design of the piece.
The project is still ongoing and currently we finished the 2nd rehearsal phase. Below is an excerpt from the last rehearsal session.
Performers:
Dimitri Cacouris
Kirsty May Hamilton
Sarai Barranco Merodio
Angela Monaco
Kate Ryan
Director:
Diana Serbanescue | REPLICA
Interactive System | costume
Mika Satomi | KOBAKANT
https://www.kobakant.at/​
Sound Design
Johannes Helberger | KlingKlangKlong
Lugh O'Neill | KlingKlangKlong
https://klingklangklong.com/​
Photographer
Miriam Woodburn
Production assistant
Emma Collauzzo | REPLICA